MAG-LOK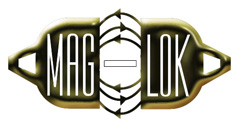 Manufacturers of MAG-LOK® Magnetic jewelry clasps and other magnetic jewelry and therapy products.
Mag-Lok® is the world's easiest jewelry clasp to use! It features easy, self aligning closure. No more fumbling with clasps on chains, necklaces and bracelets.
Order Information
Precious metal surcharge:

Sterling Silver clasps: 1.2% for every dollar over $25.00 Silver market
Gold filled clasps: 3% for every $100.00 over $1,400.00 Gold market

Automatic self-aligning closure. Each clasp has 2 very powerful magnets. 1 clasp = 2 halves.
Easy to attach with jump rings or string through loop in clasp. Quantities cannot be combined for price break.
Minimum total factory order $100. Magnetic clasps should not be used with a pacemaker.
All above clasps are MADE IN THE USA. No glue us used in the assembly process.
Shipping Information
Prices are net FOB Ft. Lauderdale FL
Visa and Master Card accepted.